Today we set sail on the Serenade of the Seas, a vessel on the Royal Caribbean Cruise line.
The SS United States holds the record for the fastest crossing at 3 days, 10 hours in 1952. Our trip will take 6 days to cross the Atlantic. The majority of passenger traffic is between the Americas and Western Europe.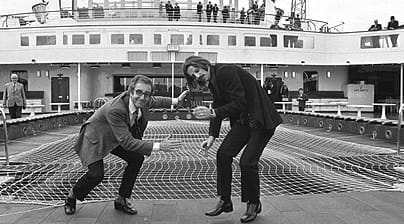 The QE2 (Queen Elizabeth 2) is one of the most famous ships to sail the Atlantic.  Its maiden voyage was in 1962. She became the company's flagship, and one of the most famous cruise liners in the world. After extensive refits over the years she is now a byword for the ultimate in luxury at sea.
Getting onboard a cruise ship can be an arduous process. Packing for such a long trip is one thing, but pales in comparison to the task of waiting in long lines for over an hour then wading through the wifi, drink and spa packages.  Once you finally make it on the boat you have to wait for a few more hours for your luggage to arrive and you must endure a muster practice.  Muster practice makes sense since in an emergency you want to have at least been to the location you are assigned, but invariably there are passengers who take much to long to find their spot which holds every passenger hostAge.
But, by dinner time all is forgotten and everyone is having a wonderful time.  We are scheduled to set sail at 5:00pm.
Bon Voyage!