Last week I visited the New Orleans Museum of Art, otherwise known as NOMA, for the first time. NOMA is located in New Orleans City Park.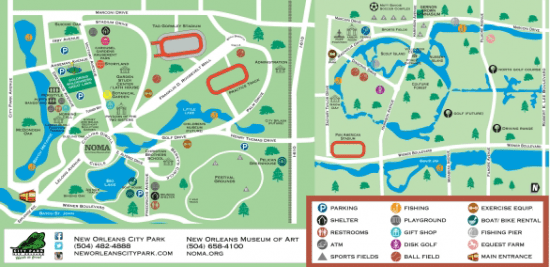 City Park sits on an Island between Orleans Avenue Canal and Bayou St. John on, what New Orleanians call, "The North Shore". "The North Shore" refers to your proximity to the great Lake Pontchartrain.
City Park has a lot to offer and there are so many places and exhibits to explore I know I will come back often and report on other exhibits and attractions there.
The Masks
The exhibit I enjoyed the most at the New Orleans Museum of Art was "Traditions Transfigured: The Noh Masks of Bidou Yamaguchi".  Bidou Yamaguchi makes reproductions of historic Japanese Noh masks. He transforms the idea of Noh masks to iconic female portraits and others. "Noh" is derived from the Sino-Japanese word for "skill" or "talent". It is a form of classical Japanese musical drama, performed since the 14th century. A Noh program includes five Noh plays with comedic plays in between.
Noh is often based on tales from traditional literature with a supernatural being transformed into human form as a hero narrating a story. Noh integrates masks, costumes and various props in a dance-based performance, requiring highly trained actors and musicians. Emotions are primarily conveyed by stylized conventional gestures while the iconic masks represent the roles such as ghosts, women, children, and old people. Written in ancient Japanese language, the text "vividly describes the ordinary people of the twelfth to sixteenth centuries".
Wikipedia
I loved the way the masks were displayed and enjoyed the attention to detail and fun nature of the characters. Here are the images I captured of the masks:
We saw several other beautiful exhibits at the Art Gallery. This one I found particularly amusing, especially when a young man next to me (who had a strong russian accent) tried to explain that the reason these two pieces were next to each other was because of the copy of the hairline by the newest artist. The original was done by Amedeo Modigliani who was Italian and lived between 1884 – 1920. The artwork is "Portrait of a Young Woman done in 1918.
If you are ever in the New Orleans, LA area please make the NOMA and City Park one of your destinations. It is a side of New Orleans that should not be missed.