Amsterdam was a surprise. I have to admit that I had done little or no research about where we were going before we left. It was a surprise on many levels. First, it was very busy with bicycles and people. Second, the buildings engulfed each block, one after another of 4 – 5 story buildings standing like soldiers, shoulder to shoulder, row after row. Third, I discovered that Amsterdam actually has legalized prostitution. Surprise!
Bicycles Bicycles Everywhere
So many bicycles going so fast! People were just whizzing by at a breakneck pace. There were also many more people walking than I expected. We were there during some terrible weather too, so you can only image what it would be like had the weather been nice.
We even witnessed the aftermath of a bicycle accident. Hearing the two-tone hi-lo siren, common in Europe, up ahead as we walked we saw two police vehicles helping an obviously distressed man clear his bicycle from the road. He didn't look injured, just upset, but it was more surprising that we didn't see more accidents in the time that we were there.
Amsterdam is one of the most bicycle-friendly large cities in the world and is a centre of bicycle culture with good facilities for cyclists such as bike paths and bike racks, and several guarded bike storage garages (fietsenstalling) which can be used for a nominal fee. In 2013, there were about 1,200,000 bicycles in Amsterdam outnumbering the amount of citizens in the city. Theft is widespread – in 2011, about 83,000 bicycles were stolen in Amsterdam. They joke about the fact that they have to frequently dredge the canals for discarded bicycles which number in the thousands.
Black Buildings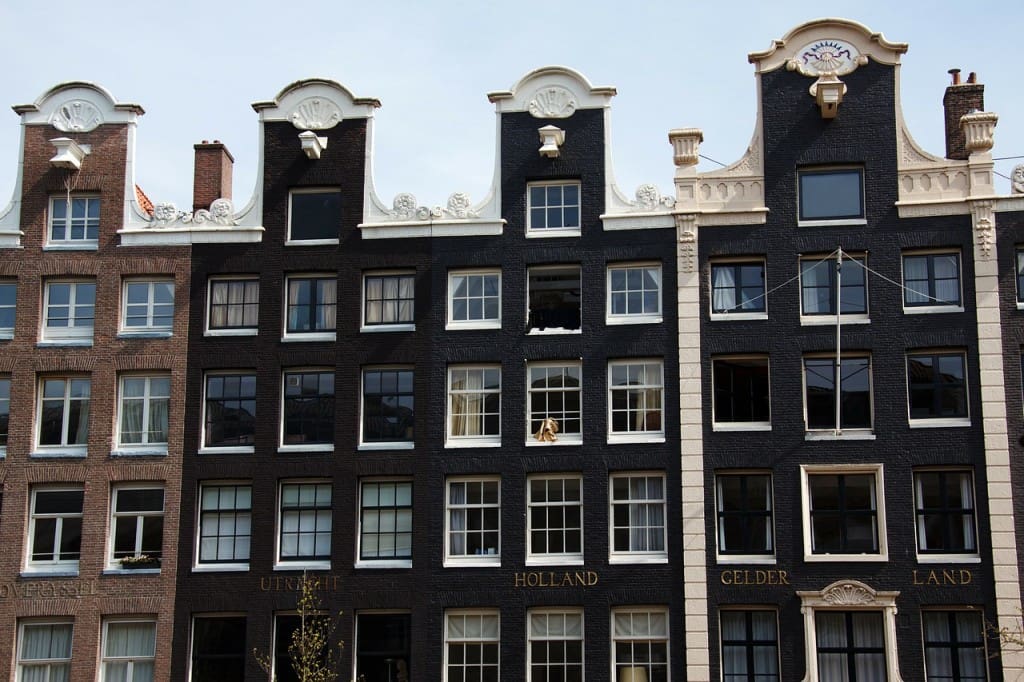 The choice of black paint as the primary house paint color was a clear trend in Amsterdam. I really liked the contrast of the white trim against the dramatic black paint. It also made the homes look so clean and modern, despite their obvious age.
Around 1815, architects started building in different neo-styles. Most Gothic style buildings date from that era and are therefore said to be built in a neo-gothic style. Jutting from the peak of every home is a fulcrum used to hoist furniture into the house through the windows in the upper floors.
Legal Indulgences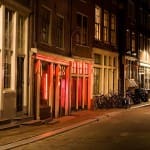 De Wallen is a designated area for legalized prostitution and is Amsterdam's largest and most well known red-light district. This neighborhood has become a famous attraction for tourists. It consists of a network of roads and alleys containing several hundred small, one-room apartments rented by sex workers who offer their services from behind a window or glass door, typically illuminated with red lights.
While it's always been illegal to grow marijuana, but authorities passively allow coffee shops to sell marijuana. It seemed to be common knowledge that it was legal with the people on our cruise ship, but I have discovered that it, in fact, is not legal which explains why the authorities brought police dogs onto the ship to search for banned substances while we were away on our excursions. You can read a great article by Winston Ross on the subject in Newsweek.
Anne Frank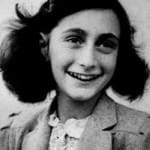 Another surprise was the fact that the house Anne Frank hid in during the Nazi invasion was located on the canal in Amsterdam. When we passed on the river boat cruise there were people lined down the block to see it. Our tour guide informed us that the apartment was upstairs and behind an apartment with a "green door" and that, although interesting, there really wasn't much to see.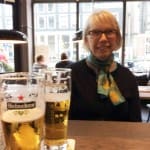 We had an interesting visit to Amsterdam. After spending 1.5 hours on a bus tour and 1.5 hours on a canal cruise I was in building overload. I was ready to get out on the sidewalks and explore up close. But, the weather wasn't very cooperative. Just as we were approaching a stop where the bus driver promised to let off any passenger who wanted to walk in town the sky opened up and it started to pour. Undetoured we quickly jumped off the bus and ran toward the closest restaurant. We had a wonderful meal and a pint before we headed out for exploration.
After walking a mile or so the rain started again and we all ducked under the awning of a local restaurant. I guess the restaurant owner didn't like a dozen people under his awning and closed it leaving everyone scurrying for cover. With a small opening in the rain we dashed toward the train station. It was funny, but in this simple act we bonded with the Amsterdam people, all of us running like mad for a dry space, laughing and having fun.