Estes Park is home to the famous Rocky Mountain National Park and since no commercial businesses are allowed within the national park it is a big draw for visitors who want to get away and enjoy the beauty of one of our great national parks. The population in the 2010 census was a whopping 5,858. Estes Park sits at an elevation of 7,522 feet (2,293 m).
The huge crags that surround Estes Park are frequented by rock and ice climbers, but there is also an opportunity for boating on quiet lakes and rivers, mountain biking and horseback trails. Trail Ridge Road is a designated national scenic byway and you will see an abundance of wildlife along your way.
Harry Kent's Kent Mountain Adventure Center even offers clients a chance to live like a big-wall rock climber for a night, offering dinner, drink and a sleep under the stars on a 4-by-7 platform clipped to cliff. A friend of mine, Paul Hickenbottom, actually has done this as part of his mountain climbing hobby. I'm not sure this is on my bucket list, but I'm not ruling it out.
Scenic Riverwalk
There is a scenic riverwalk by the Big Thompson. The headwaters of the Big Thompson River begin in Forest Canyon within Rocky Mountain National Park in Larimer County, Colorado. The river flows east through Moraine Park to the town of Estes Park.
Elkhorn Avenue
Elkhorn Avenue is the town's busy main street. The name is Elkhorn for a reason. It is famous for being heavily populated with Elk during the summer season. Locals keep their distance but visitors aren't always as respectful.
In September 2013 Estes Park experienced a flood. It was quite an ordeal for people living there but the city has recovered wonderfully.
Stanley Hotel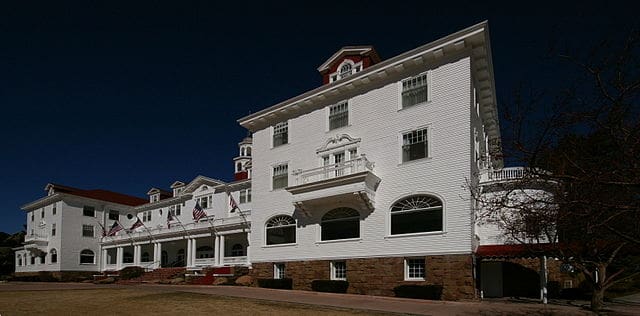 This century-old hotel overlooks the town. The hotel also hosts a ghost tour and whiskey bar. The Stanley Hotel is a 140-room Colonial Revival hotel in Estes Park, Colorado. Located within sight of the Rocky Mountain National Park, the Stanley offers panoramic views of the Rockies.
The Stanley is famous in popular culture for having inspired horror novelist Stephen King to write The Shining, published in 1977. In 1974, horror writer King spent one night in Room 217 at the Stanley Hotel with his wife Tabitha while on a vacation to the Boulder area.
And if you're looking to improve your health, they have a brand new expansion to include a huge wellness center.
Events Abound
Each Labor Day the town celebrates the Longs Peak Scottish-Irish Highland Festival.
Since 2013, the Stanley Hotel property has hosted the Stanley Film Festival, an independent horror film festival operated by the Denver Film Society, held in early May. The festival features screenings, panels, student competitions, audience awards and receptions.
Coolest Car Show is held every July 4th.