Paris in springtime. We experienced rain, sun and wind during our visit here. The Paris of the past must be different than the Paris of current day, or maybe my expectation was different. I had envisioned a quaint little city and small intimate streets with flower venders everywhere. Paris is much larger than I had imagined. I thought it would be the size of New Orleans, but it was at least 4 times larger. The distance from the Eiffel Tower to the Louvre is 3.8 km or 2.5 miles.
Golden Trim
One of the features that I was not expecting was the gold trim on objects. It seemed like there was more gold, gold, and more gold. It embellished statues and gates everywhere. Seeing the city in its totality gives you a different impression than from individual photos.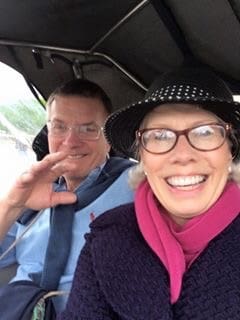 We walked to the Louvre where, half the population of the Western world was, and saw the Roman statue wing before we started to feel clostrophobic and left. We had a delightful time riding back to the center of town in a bicycle taxi. He whizzed in and out of traffic and navigated the most complex intersections with real panache.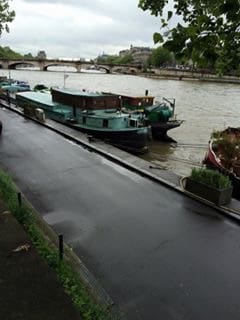 There are many barges on the canals of Paris. There are fewer than 150 live-aboard boats in Paris. Just about the only way to get one of these coveted spots is to buy a boat that already has one — otherwise there is a very, very long waiting list. The mooring fee for a boat is about €1,000 per month ($1,130), which is, of course, impossibly cheap for a home of this size and space in Paris.
If you would like to read more about owning a boat here there is a great article in Yachting Magazine.